CATEGORIES
BRANDS
​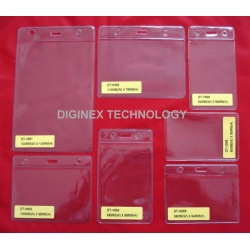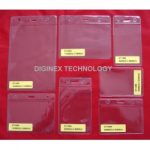 Card/Tag Holder – Soft
---
$
* Transparent Clear PVC - Soft Type
* Credit Card Size or Customize Size Available
ENQUIRE NOW
ID Card Tag Holder
Are you worried about your smart card always getting dirty and getting scratches all over? You don't have to worry anymore as Diginex Technology provides ID card tag holders which can help to keep your smart cards clean and free from scratches caused by rough surfaces.
These smart card holders are made out of clear polyvinyl chloride (PVC), which is lightweight and very affordable. These plastic card holders do not only protect your card from dirt, dust and scratches, they also prevent water from ruining the electronic components in your smart card. Diginex Technology does not limit your plastic card holders to a few specific sizes as the sizes of the ID card and tag holders can be customized according to your liking. The plastic card and tag holder comes with a little hole at the top, which is convenient for clipping lanyards for portability. In addition to that, the transparent PVC card holder also allows you to see the type of card that is enclosed in it, so that you will take the right card at the right time, such as an employee card when entering the office building, and a home access card when entering your condominium.
If you are looking for card readers, check out our Mifare card reader or HID proximity card reader to pair with our PVC card holders.